**Quick Disclaimer... I don't hate harnesses, I know plenty of people who use them but I also know many, many people who use them improperly thus I decided to tackle the topic. Please feel free to comment but keep it respectful, their is no disrespect meant on my part.**
Throughout the ages harnesses have been used on many different animals for many different reasons, the main reason though was to equally distribute weight for maximum efficiency and for the health of the animal.
Harnesses are great!

For Pulling....
Harnesses are used generally for pulling reasons, some examples include:
Weight Pulling Competitions
Photo Attribution: John M. P. Knox
Cart Pulling
http://www.pasturegreen.co.uk/carting/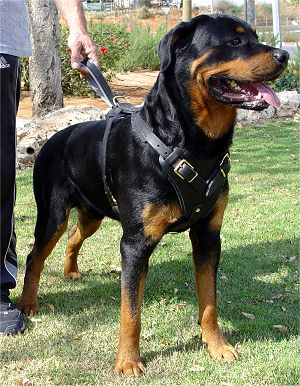 http://www.fordogtrainers.com/index.php?main_page=product_info&products_id=2650
petsupportsuit.com
petco.com
Most dogs tend to pull in the beginning stages of leash training. If you put a harness on a dog that already likes to pull you are giving them more reason and ability to do so.
Why do people use harnesses?
Some people feel that it is kinder than choking a dog out. A dog that is pulling too hard can damage their trachea and neck muscles.
Another argument is that it evenly distributes the pressure across the dogs body.
Fashion reasons.
Some harnesses allow for two points of connection - for this particular style they use a back and forth technique to teach the dog not to pull.

When used properly this is not a bad idea (see i'm reasonable!)

More comfortable for the dog.

If your dog isn't pulling then comfort isn't an issue and a collar will do just fine.

Better communication between dog and handler.

This I really take issue with...your dog should be paying attention to you when you are walking unless they are being given free time.
Walking is a great way to bond with your dog, our dogs understand that the leash and a walk is business and they are working. Unless we give the signal, "Ok" then they do not get to sniff at whatever they desire and they do not get to choose where we go. Their job is to pay attention to the handler be that myself, my hubby, or any person/child holding the leash. They should always walk next to and not in front of the handler.
Standing perfectly next to daddy. This is a good loose leash walk. See the slack in the leash?
See the slack? It's actually draped on Dante's back their was soo much slack. And this was a very dog exciting hike!
I think the biggest reason people choose a harness as their training/walking tool is because they do not want to hurt their animal.
However you can in a
positive
and
not harmful manner
teach your dog not to pull with patience, practice, and training. A walk with a leash doesn't have to be cruel or painful for your dog, their is no need for you to walk away feeling like a terrible person.
Most people I have seen using a harness are not using one properly. They pick one up at their local pet store because it is in style, and they like the idea of not hurting their dog who pulls against its collar. They do not however put any thought into how to properly fit or use said harness, and they don't take the time to learn.
The result?
The dog still pulls even when wearing a harness, and now they have more leverage to do so! On top of that, if the harness does not properly fit it can impede your dogs movement and cut into their skin.
Now please don't misunderstand what i'm saying...with proper techniques and two leads a no-pull harness can teach your dog not to pull. Please seek professional help for fitting and learning to use a harness if that is your preferred method. And by professional I don't mean a store clerk.
Their are many methods for leash training, what's important though is that your dog is under control and you are enjoying the walk too.
It's also important to keep learning and not use tools as a crutch but rather a stepping stone. If a harness is your preferred first step that's fine. But keep in mind it should be a stepping stone not an end.
It's safer for everyone involved that your dog not pull when on the leash. If your dog is pulling and becomes extremely excited or is a large/strong breed you can lose the leash, worst case scenario they attack another animal, bite a person, or are hit by a car in their moment of excitement.
This is why control is soo vital.
Anyone can walk our dogs, but it takes upkeep and constant practice. Notice he is not pulling.
When we first got Dante he came with a slip chain collar and he pulled really bad, so bad in fact that he had sores on his neck from the chain pinching his skin.
Dante's Story Here.
We switched him to a Martingale Collar for a few reasons; Martingale collars do not choke your dog or cut off their breathing the way a slip (choke collar) does. I can put two fingers under Dante's Martingale collar when it is at it's tightest point, this allows plenty of comfort in its fit while not allowing your dogs head to slip out. They were originally designed for breeds with larger heads and small necks like greyhounds - the goal is just to prevent the collar from slipping off.
Traditional Martingale with Chain
Hopefully you can see from this picture how the collar works. The chain allows the collar to be really loose but does not choke the dog should he pull. These collars are also made out of cloth if you don't prefer a chain.
Martingale no Chain
We like Martingale collars, they are quick and easy to take on and off and I like the idea that their heads can't pop out in a crisis.
After Dante learned to walk nicely we then introduced a "joring" harness specifically so that he could comfortable learn to urban jore - pull my husband in this case on roller blades. Read more about that
HERE
. I'll be covering joring in more detail in another post.
We used to use corrective, "Positive Punishment" training techniques with Dante. We quickly learned that not only did it not entirely work, but it also created anxiety in him during our walks.
Training should be a fun and bonding experience for everyone involved including your pup! If this is not the case you are clearly doing it wrong.
More on Positive training techniques HERE.
Positive Training techniques help to create a stronger bond with your dog, it improves your overall relationship and contributes to a more trustworthy confident dog who desires to please and work with you.
From a proper "heel" position you can then work on off-leash training which creates a stronger bond between yourself and the dog and makes them more reliable in emergency situations, if your leash breaks, or lets say you don't have enough time to find/put your harness on your dog.
Remember:


The whole point is that your dog is under control and not pulling. The end goal of any training device is the same; a comfortable and enjoyable bonding walk between you and your dog.
Dante and Ziva practicing, "wait".