Adventure Dog Story
We're looking forward to all of the fun winter sports!
This year we want to go ski-joring, and do lots more snowshoeing!
Last winter I hadn't started my blog yet, so this is a throw back post!
Last winter January 2014 we decided to take our first snowshoeing hike; the hubby, Dante and I. At this time we also had Tex-Anna but she was a senior Border Collie and didn't have the stamina for such a trip.
We started our adventure at Gold Lake Snow Park in Oregon.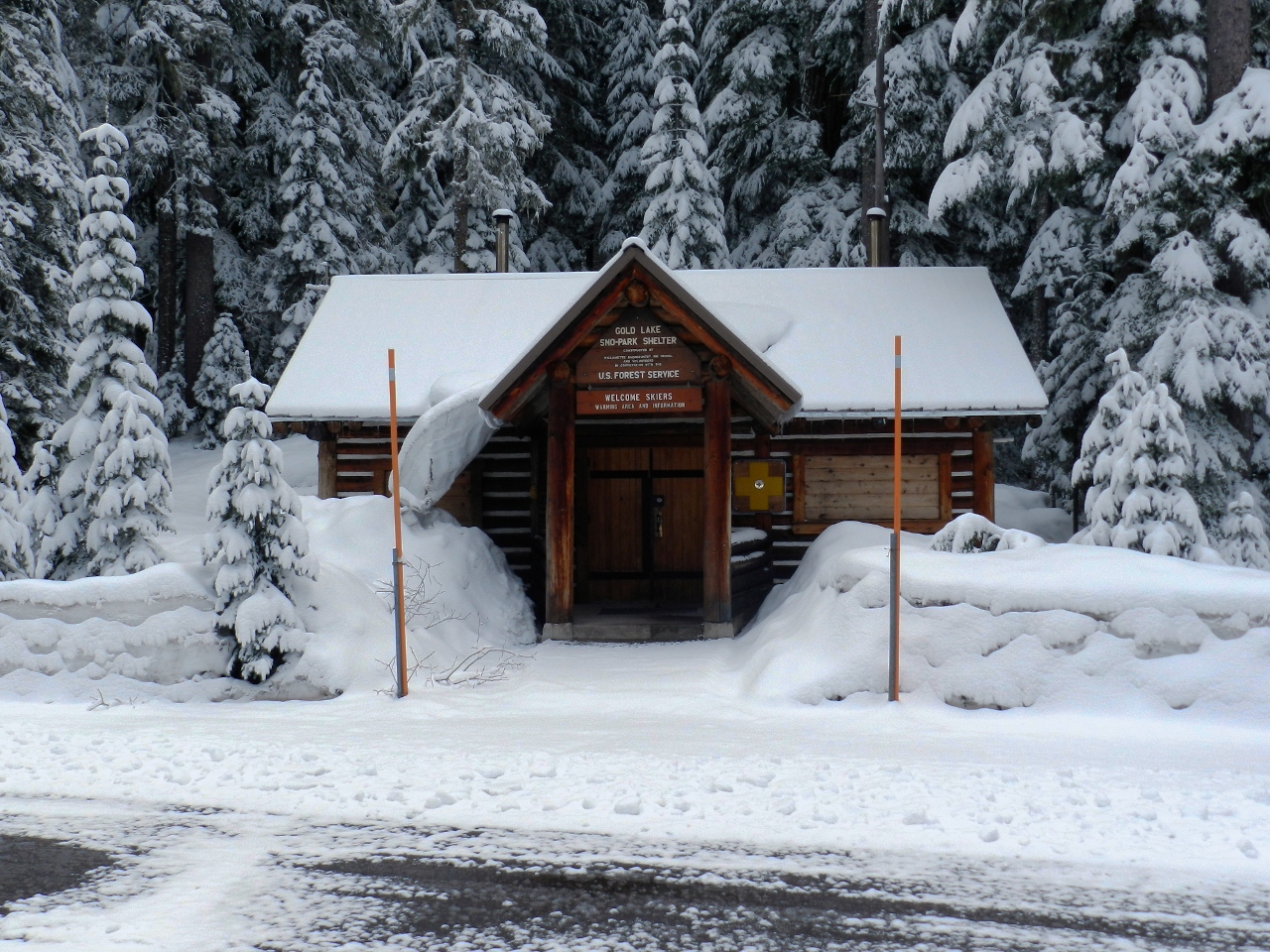 Brr...looks cold right? Gold Lake Warming Hut
For this hike we all carried our own backpacks with food, and water. The hubby and I also carried a small first aid kit, map of the area, compass, fire starting kit, space blankets, and phones.
Please be safe when you go on your adventures, and know how to use your tools!
When you go snowshoeing or even hiking, make a photocopy of your map, mark where you are going with a highlighter, reference how many people and animals are in your group, write down any emergency family phone numbers, and say what time you are expected to be back.
Because if you don't return to your car, rescuers will search your vehicle to try and determine where to start looking for you and you want to make it easy to be found!
A general rule with dogs is that a dog can carry 1 pound per 10 pound of their own body weight. So Dante being about 60 pounds could carry 6 pounds safely. Keep in mind we worked him up to this! We did not just strap on weight and say, "Go".
Another thing to keep in mind is dog breeds are built differently and age also plays a factor.
Dante is a big muscular boy! 6 pounds is nothing for a big guy like him.
Being just over a year old at the time, and super strong, we wanted to really wear him out which is hard to do! So we weighted him down with about 6 pounds mostly water for him, poo bags, lunch, etc. and took off!
Suited up and ready to go! "Boots mom? Really again?"
Dante and Daddy
Unfortunately the boots didn't perform as well as we would have liked for this trip. It could be because the boots got wet, but they were impossible to keep on his feet. The snow jammed up the velcro, and they rubbed sores onto his feet even though his nails were short. It was a bummer but we ended up having to take the boots off.
We kept him on a leash for the beginning part of the trip, their were way too many sights and smells. His senses were soo overwhelmed that listening to us was at the back of his mind.
As our trip progressed we began letting him off-leash for short sessions, and using treats to practice his recall. As we got more comfortable and he slowly became more tired we just left the leash off.
I should mention, the area that we were in was not a busy trail. And he quickly learned to walk in the paths we were creating with our snowshoes because breaking a trail on his own was hard work!
It's important for adventures in general that your dog be good at recall if you are going to let them off leash at all. You don't want to disturb the wildlife, other hikers, snowshoers, cross country skiers, joring teams, or other people with dogs, just because your dog is friendly doesn't mean someone else's dog is friendly, and some people have fears of dogs.
It's important for all dog lovers and owners to be polite and follow trail rules and manners so that these wonderful places remain open for use.
Off-leash Play Time!
We planned on doing a 4 mile round trip hike, but ended up taking a wrong turn and so it turned into a 6 mile hike. On a good note though, this was a trail marked as "easy" and all of the paths eventually led back to the warming hut where we had started.
Our view during our lunch break. Waldo Lake
On a fun note - we bumped into a professional photographer who loved Dante's coloring, he got some great pictures that he was kind enough to email us!
"Dante, where's Waldo?"
The Professional Photos - thank you kind sir!
The men in my life.
Unfortunately on our way back to the car we could tell that Dante's feet were beginning to hurt him so we removed and carried his backpack for him, and then he was silly and fell in a hole because he got too close to a tree that was hiding under the snow.
When he fell he ended up cutting one of his front legs, thankfully it wasn't a bad cut but he did end up leaving a blood spattered trail the last 1/2 mile or so back to the car.
But we succeeded! He was a tired boy!
We had to lift him in, and then he slept the whole ride home.
"What an awesome dog day!"
We can hardly contain our excitement for this next snowshoe season!
We'll be taking both Dante and Ziva this season!