Husky/Plott Hound Mix!
We recently bumped into an instagram account user with a dog that is almost a dead ringer for Jack!
You can check them out @puprising and say hi!
I should mention...the pink collar is because Ziva's was the only collar that fit when we found him. He originally wasn't wearing anything, but now he has a handsome blue one!
His name is Cooper and he is a husky/plott hound mix.
A couple people guessed the same thing we did!
Honestly I had never even heard of a Plott hound so I did some digging to try and better understand Jack.
Plott Hounds are an AKC recognized breed.
This breed of dog was created in America and named after a family of German immigrants. Plott's are classified as a coon hound although they were originally bred to hunt bears and wild boar. This is a courageous breed that will not back down easily in the face of a dangerous bear or angry boar.

Once this breed came over to the U.S. it was also used to search for wolves, coyotes, and wildcats.

Because of their tracking drive, they require an experience handler who is willing to train and work with them, they're a working breed and need to be kept physically and mentally in shape to avoid behavioral issues. This is not a good breed choice for first time dog owners.
This breed was designed for speed, endurance, and athleticism. Although originally a hunting breed, these dogs make for great pets and agility dogs.
Plott hounds come in a wide variety of brindle - 13 different colors to be exact: Jack according to the Plott hound color chart is what is called an orange brindle.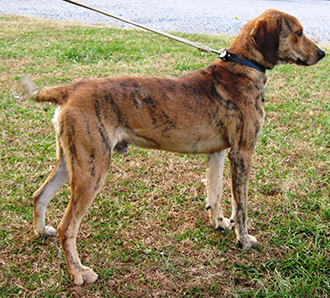 Orange Brindle Plott Hound
With four distinct breed markings: black saddle, brindle trim, graying muzzle & jaw, white chest and feet.
Plott hounds are typically eager to please, loyal, intelligent and alert in the home. They are generally good with children, other dogs but should be socialized early on. Males weigh in between 50-60 lbs, females 40-55 lbs.
Plott Hound
And now it all makes sense!
Independent Attitude
He loves to run - Husky and Plott both have these attributes.
He never stops playing - endurance from both breeds.
He's psycho crazy if he isn't exercised - Husky & Plott exercise requirements.
Jack is very person oriented and affectionate - Plott
He is a bit suspicious and protective of me when he meets new people - Plott
Super smart and willing to please - Plott
Short hair - Plott
Thick coat - Husky
Orange brindle striping - Plott
Blue eyes - Husky!
I think it is very important to be educated regarding your dogs' breed, by being educated it allows you to better understand where they are coming from and how best to meet their needs. I hope you learned something new today, I hadn't even heard of a Plott hound before now!