Their is no such breed as a "Pit Bull".
"Bully Breed" Is Not The Same Type of "Bully" As a Children's Playground Bully, "Bully Breed" Does not mean "Mean Dog".
Depiction of the Ancient Molosser
"The term "bully" can invoke a sense of terror and intimidation, so it's no wonder many people believe that these dogs pose a danger to society. However, the term actually has nothing to do with the dogs' temperament or behavior, and everything to do with their origin and history. Bully breeds all come from the same root stock called Molosser, which is a breed that originated in ancient Greece. Molossers were big dogs with large bones and muscles, pendant ears and short muzzles." (Source:
Animal Planet)
History of the American Pit Bull Terrier & Bully Breeds.
The
generally accepted history
of these dogs starts with the Molosser, this now extinct dog was a soldiers' dog used for fighting, hunting, and war. The theory goes that this dog made his way into Britain where he became known as, and evolved into the modern day mastiff and other bully breeds. These early Mastiff-type dogs were used by butchers and came to be called "bullenbeissers," which translates to "bull biter". Ever wonder about the rings in a bull's nose? These dogs were trained to latch onto, "bite" the ring and hold on until the bull was subdued or until the human could remove the cows from the field. These dogs were how humans were able to handle an agitated bull. These dogs were highly prized for their stubborn nature and ability to handle these dangerous bulls.
Early depiction of a bulldog.
Well as I'm sure you can guess...this practical use of dogs eventually evolved into bull-baiting, and bear fighting which quickly became a form of entertainment in Europe.... And now we have the roots of the modern day "bulldog" and the new term the "pit bull".
As humans began to see the cruelty in bull-baiting and bear fighting they began to enact laws that banned such behavior - baiting was made illegal by the British parliament in 1835. Unfortunately the dogs weren't so lucky. The human fighters and remaining fans went underground and began to train/fight their dogs against each other.
However -
while these dogs were being fought with each other they were selectively bred and trained to be very human friendly so that the human fighters/gamblers could handle their dogs. Through this the dogs gained a reputation for being trustworthy around humans.
Enter the Terrier.
For the sport of fighting - the slower bulldogs were crossed with the more agile terriers to create a faster super athlete. Terriers themselves were used for both hunting & blood sports - the rat terrier for example was used commonly in a sport called
rat-baiting
.
Working with these dogs people realized they were useful for a wide variety of things and not just fighting. Their bravery and lack of fear was highly prized by hunters - some of these dogs were used to boar hunt, with their tenacity, desire to please, and high working drive they made for great partners when on a hunt. Even today these dogs are still used for boar hunting! Successful hunting dogs were highly prized and cared for by their human counterparts.
As immigrants began to cross the ocean they brought along their families and prized possessions which included their dogs. Unfortunately dog fighting also came to America and was common throughout the 19th century.
The All American Dog.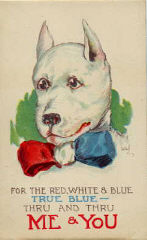 As settlers traveled West these dogs began to change some more. These dogs were used primarily as farm dogs, hunting, and companions/guardians of the families young children. What we know now as the American Pit Bull Terrier (APBT) is a dog that has changed throughout history. Their terrier history gives these dogs a high prey drive and desire to work. Like any hunting breed APBT's generally speaking - have a high prey drive compared to some other dog breeds.
This does not mean that they can't be around other animals (
Click HERE for more on the subject of prey drive
).
As the APBT became more popular in the US they were admired for their friendly nature, bravery, and how hardworking they were. They also became mascots for WWI representing bravery and the American Spirit.
WWI propaganda poster - notice the kittens in the flag.
Over the years the APBT became the All American dog. Used in World War I for propoganda posters, they represented the US military and became mascots for the United States Marine Corp. Also in WWI, Sergeant Stubby became the unofficial mascot for the 102nd Infantry Division and was credited with saving the lives of his human comrades.
Sgt. Stubby
These highly popular breeds were owned by many famous people such as: Helen Keller, Theodore Roosevelt, Woodrow Wilson, Jimmy Carter, Mel Brooks, Fred Astaire, more recently Rachel Ray, Norman Reedus, Danny Trejo, Jennifer Aniston, Kevin Bacon, Josh Hutcherson, Jessica Biel and many more! The APBT has also featured in movies like
Buster Brown,
and
Our Gang.
Normally bully breeds are gentle dogs when they are properly cared for, they are social, intelligent, and loyal. They are also athletic, energetic, and agile.
The dogs that came to American became known as American Pit Bull Terriers.
One of the reasons bully breeds end up in shelters & in the news is due to human ignorance. If not given enough exercise they can be very destructive, and tend towards destructive behaviors such as chewing or digging.
Many people have multiple bullies in their household, but in order to keep the peace this means that each dog you integrate must be properly socialized, well balanced, and their personalities must match or you'll have a problem on your hands. Two dominant dogs, or a dog with food/toy aggression issues can lead to a dog fight. Now please keep in mind - dog aggression/aggression & dominance are found in all dog breeds, however with powerful breeds it is not something that you can just ignore and hope to resolve itself.
Unlike many anti "pit bull" advocates want you to believe...the modern bullies of today have generation upon generation roots going back to family and work dogs rather than fighting dogs. On top of that, most shelter bully breeds are mutt mixes rather than true American Pit Bull Terriers.
It only takes a brief look at history to see that these dogs aren't dangerous to humans but the other way around. For hundreds of years these dogs have been family dogs, they have been friendly loving, loyal, and dedicated working dogs. The problem lies with the people who misuse them. With outreach and education, holding owners responsible for the acts of their individual dog we can change the tide of history and restore these unfairly labeled and wonderful dog breeds.
*This is a brief summary of the history of bullies, I hope you enjoyed it! Their is much more that can be learned if you are interested in learning about specific breeds.*