Halloween is a very confusing day for many dogs, please be careful and pay attention to how your pup is feeling.
Just because you are having fun, doesn't mean that they are.
For some dogs, especially reactive, or nervous types this is a day of madness and mayhem.
Imagine it...door bell rings,
your dog's job is to bark at the door,
barking ensues,
tiny humans in strange garb are at the door,
some of them have their faces covered,
you hush your dog and greet the tiny humans but do not invite them in,
the tiny humans are sent away...and DING DONG, the door bell is ringing again!
By the end of the night, your dog may be stressed and irritable due to the nights confusion.
Costumes -
Not all dogs like to dress up!
It's sad how many pictures people post of their dogs in costume, and if you look at the body language the dog is clearly unhappy.
Please be kind to your pets, some animals do not like being placed in a costume.
If you are going to use costumes, practice with your dog.
Put on the costume, take it off, put it on, take it off. Slowly leaving the costume on for longer periods of time. Make it a fun experience by rewarding good behaviors, you can also practice your training sessions while in costume to let your pup get used to it.
Don't force the issue if your pup hates the costume.
Just make sure the costume isn't introduced the same night as Halloween when stress levels are already up.
Look at this cutie! He doesn't mind at all! Puppy head tilt (I bed the camera holder is holding a treat!). He has curious happy eyes, forward inquiring ears and a relaxed mouth.
Our Fun Last Year.
Dante is our social and very confident boy, he loves people especially little kids and parents are often surprised at how gentle he is with them.
And most of the kids in our area know Dante from his joring with the hubby, walks, winter sleigh-rides, and our training/playtime at the local elementary school and neighbor's field where we do off-leash work.
Last year we dressed Dante up as Super Dog!
Sorry I don't have a picture...Their will be pics this year though! So tune back next week, we have some awesome costumes to unveil!
With all his super-stardom Dante ended up drawing in sooo many kids that we ran out of candy! I know, what?! And the hubby had to make an emergency candy run.
We turned the trick or treaters into a training game.
A "Dog in Training" Sign - we printed out one on a piece of paper, colored it and posted it on the front door. Make sure you use big letters! Our's read: "Puppy in Training, Please Ring and Wait - We're coming!"
Leash
Lots of High-Value Doggy Treats
Clicker (if you'd like)
Treats for the cute little goblins at your door!
Game Goal - The goal is to teach your pup that for at least this one night, when the door rings you don't need to bark, you need to sit and wait patiently.
What we don't want - A crazy excited Dante busting out the door knocking over little princesses, and goblins in his hurry to say hi and kiss everyone.
Set your dog up for Success:
Make sure you have a happy relaxed, and exercised pup before evening starts!
Leave the leash on!
You don't want your excited dog knocking over a kid, running into the street, or running into a leashed dog that may be with the parents of the children.
Remember: Just because your dog is friendly doesn't mean someone else's dog is friendly.
You also don't want your pup to accidentally scare someone (some kids have a fear of dogs), please be polite on this holiday night.
Door rings - Dante barks.
Go to the door, ask for a "sit" *click, treat.
Have your pup give the door room to open, ask for "wait".'
Open the door - treat the princess's and goblins.
Close the door - *click, treat for waiting.
If your pup break's the "wait". Address it - re-position your pup where you had originally asked for the "wait". Repeat again, "wait". And move forward. Sometimes having a second person helps with the "sit" "wait".
If the kids want to say hi, or if you want your pup to say hi. First ask the kids, "Would you like to say hi?" If the answer is "Yes", then allow your pup to politely greet.
No Jumping! No darting out!
Use the leash, ask for a "sit" *click, treat. We'd let Dante say "hi" so long as he was polite, since he looks most kids in the eyes we asked that he "sit" and let them pet him.
Remember Lots of Treats! - And you want to use a high value treat - something they really, really want. Like cooked chicken breast, pork, beef, hot dogs, cheese (Dante loves cheese!).
By the end of the night Dante wasn't even barking at the door! The bell would ring, he'd run over to his spot, sit, and just wait for the kids to leave because the door closing meant he'd get a treat!
If your dog doesn't like the masks or costumes, it is better that they not participate. The last thing you want is a child being bitten because your dog became scared.
How can you make this a less stressful night?
If you have a reactive or nervous dog, please do not make them participate.
You can make their experience much more peaceful if you place them in their "safe place" like their crate or bed, and ask for calm behavior.
Pay attention to your dog's body language,
even a dog that is well-balanced can become stressed.
Tail tight to their rear or between legs, avoiding eye contact, looking away, ears held down or back, tense mouth, frequent and exaggerated yawning, body shake (as if shaking off water) rapid panting (without having been exercised).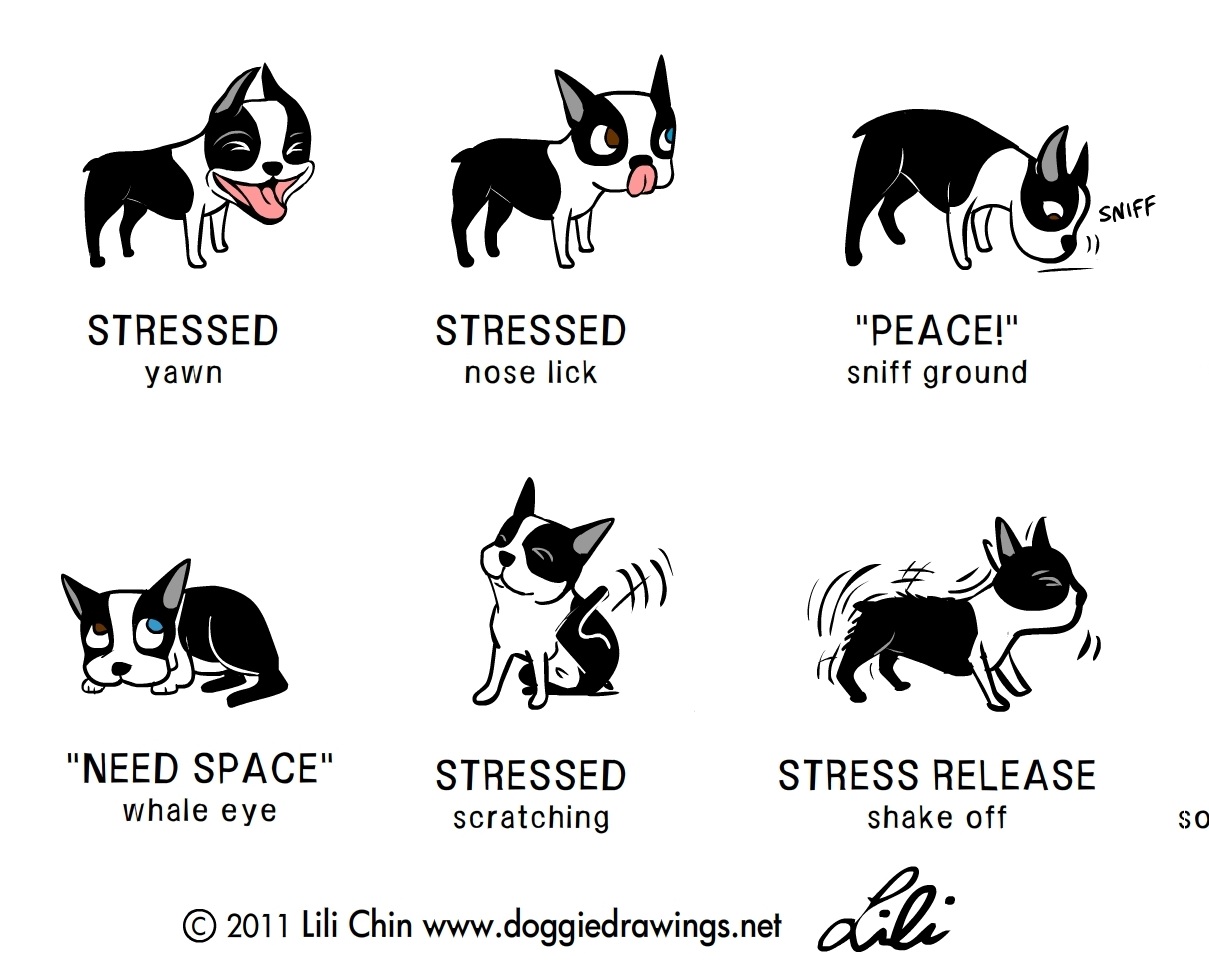 A happy dog will have relaxed eyes and facial lines, mouth relaxed slightly open, ears up, and relaxed tail.
Dante Relaxed but having fun.
Dante excited hunting through the grass.
- Confident dogs hold their tails high! With confidence, but they have relaxed body language.
Look at the picture below of Dante, relaxed forward ears, open relaxed mouth.
Dante, high confident tail with relaxed body language.
- High tail & stiff tail, tight mouth, with squared up shoulders is dominant behavior
that can potentially turn to aggressive behavior and lead to a bite
if your dog is unsure or nervous about a situation.
Canine Body Language Poster by AbbyK9
This Year We Have Ziva, we're going to give her a chance to participate in the fun but we'll be watching her very carefully to make sure that she doesn't become stressed.
A friend of ours also has a great Halloween post, check it out!
Sugar The Golden Retriever - Keep your Dog Safe on Halloween
Fit Dog Friday brought to you by
Slim Doggy
,
To Dog With Love,
and
My GBGV Life
.